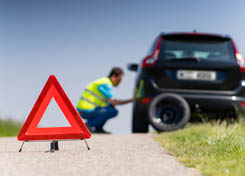 We always pray for your safety and wish a safe journey all the time. But some incidents occur although they cause inconvenience. For example, a flat tyer in the middle of a long journey and no assistance is readily available. You may also forget re-fueling when driving on smooth road with your cruise control on. You never know when is the time to change your old car bettery.

For all these unforseen situations, we ensure quality roadside assistance. You simply have to give us a call and we will ensure the right assistance is with you as soon as possible. We can provide you with free wheel change in case of a flat tire, sufficient amount of fuel to take you to the next petrol station and free battery boost. These are some of the essential roadside assistance we ensure that you get with your car insurance.

Reqeust a call back from one of our experts to help you understand this in detail and provide you with the Quality Roadside Assistance.