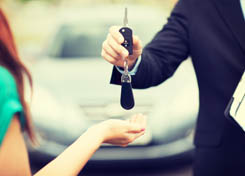 We pray for your safety, always, but accident do occur. We understand that getting your car repaired quickly is very important for you. We also understand that living without a car will be very difficult for you.

Keeping these situations into consideration, we have selected the car insurance policy for you where you get rent-a-car for the maximum of 10 days in case your car goes for repair during the claim. This way you will always have a car to drive.

Since we believe in communicating everything clearly before you even opt to go with us, so please note that as a requirment by rent-a-car association, it is mandatory to have a credit card to avail this feature. The owner of the car and policy holder must submit his credit card details from which an approximate of AED 1,000 will be blocked for security. Exact amount that will be blocked is available on our car insurance policies' comparison page.

This amount is to cover any fines on the rented vehicle during the rental period. These funds will be released after approximately 15 days from the date of car's return. You can always request a call back from one of our experts to get a better understanding on this feature.

Explore our policies to find out more on the availability of this facility.